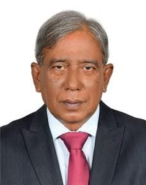 Professor Dr. Md. Hasibur Rashid
Vice Chancellor
Begum Rokeya University, Rangpur
Introduction
Welcome to the official profile page of Professor Dr. Md. Hasibur Rashid, a distinguished Bangladeshi educationist and prominent figure in the field of Management Information Systems. Dr. Rashid's academic journey has been characterized by his dedication to education, his significant contributions to academia, and his leadership roles.
Biography
Early Life and Education: Born in the Rahimpur village of Ishwardi municipal area in the Pabna district, Professor Rashid's educational journey began with S.S.C. from S. M. High School, followed by H.S.C. from Ishwardi Government College in 1970 and 1972 respectively. He then pursued his Bachelor's and Master's degrees in Management from the prestigious University of Dhaka in 1976 and 1977.
International Academic Pursuits: His academic pursuits led him to earn an MBA from Western Michigan University in 1988, further enhancing his knowledge in the field. Subsequently, he earned a Master of Philosophy degree from the University of Bath in 1996, followed by a PhD from the University of Dhaka in 2010.
Career Highlights
With an illustrious career spanning decades, Professor Rashid has been an integral part of academia, particularly in the realm of Management Information Systems. Some highlights of his career include:
- Serving as an Associate Professor in the Department of Management at the University of Dhaka from October 1986 to September 2000.
- Promotion to the position of Professor in the same department in the year 2000.
- Playing a pivotal role in the newly established Department of Management Information Systems at the University of Dhaka since 2005.
- Holding the esteemed position of the second treasurer of Begum Rokeya University, Rangpur in 2020.
Leadership as Vice-Chancellor
Professor Dr. Md. Hasibur Rashid's exceptional leadership skills were recognized when he was appointed as the Vice-Chancellor of Begum Rokeya University, Rangpur on June 9, 2021. His four-year tenure officially commenced on June 14, 2021. Professor Rashid assumed the role of the fifth Vice-Chancellor of the university, succeeding Professor Nazmul Ahsan Kalimullah.
Vision and Contributions
Professor Rashid's vision centers around creating an environment of academic excellence, fostering diversity, and embracing innovation. His contributions to academia and his commitment to providing quality education have left an indelible mark on the institutions he has been associated with.
Contact Information
For inquiries, collaborations, or further information, you can contact Professor Dr. Md. Hasibur Rashid at:
- Email: vc@brur.ac.bd
- Phone: +880 1911320798
Thank you for visiting the profile page of Professor Dr. Md. Hasibur Rashid. Stay connected for updates on his academic endeavors and achievements.